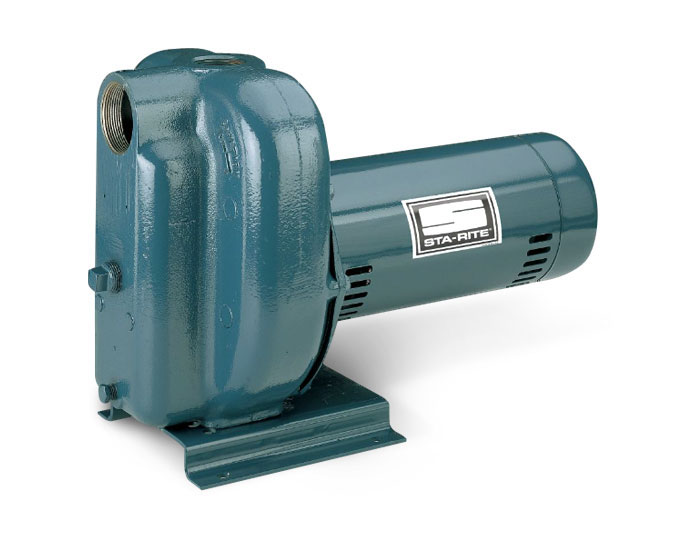 Image shown may not be actual product.
STA-RITE Pump DS2HHG3-53MS2
STA-RITE Pump DS2HHG3-53MS2, Centrifugal Pump, Self Priming, 2 1/2 HP, Three Phase, 208 / 230/ 460 Volt, 145′ Max Head
Description
STA-RITE Pumps Fast-Priming DS Series Pumps are high-head pumps that feature leak-proof mechanical seals, easy-service design, heavy duty motors, and rugged construction. Self-priming after initial filling with water. Pump features a ruggedly Constructed heavy duty motors. Drain Port Provided for Easy Winterizing High Head Models Deliver Up To 145′ of Head With Capacities to 95 GPM Normal Wearing Parts are Easily Accessible for Service and Replacement Without Disturbing Piping or Mounting Easy Serviceablility – Normal wearing parts are easily accessible for service and replacement wihtout disturbing piping or mounting. Heavy-Duty Motors Designed for Continuous Operations. Capacitor Start Will Not Cause Electical Interference With TV or Other Applicances. Pumping applications includeLawn Sprinkling Agriculture Industrial sump drainage, fire protection, marine pumping, liquid transfer and supply operations. This pump is under warranty for up to 12 months from date of original installation, or 18 months from date of manufacture whichever occurs first.
Additional information
| Attribute | Information |
| --- | --- |
| Weight | 96 lbs |